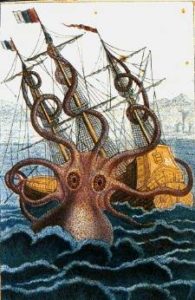 This Monday, 22nd September, the BristolCon Fringe event is being invaded by Kraken (more than one, to be clear – the plural of Kraken is Kraken).
In October 2013 the Bristol Literary Festival hosted a workshop in which writers were invited to write a story in just 24 hours, with support from six authors. The stories were entered into a competition, and the top ten were published, in record time, by Angry Robot Books.  Details are here.
We have five of those intrepid Krakeneers here to read their stories for you:  Ian Millsted, Scott Lewis, Rosie Oliver, Kevlin Henney and Piotr Świetlik.
As always, the readings take place in the inestimable Shakespeare Inn on Prince Street, and proceedings commence at 7:30pm.