Corin Heyes Omnibus - GR Matthews
Published on 15/05/2023 06:16:51 by Nik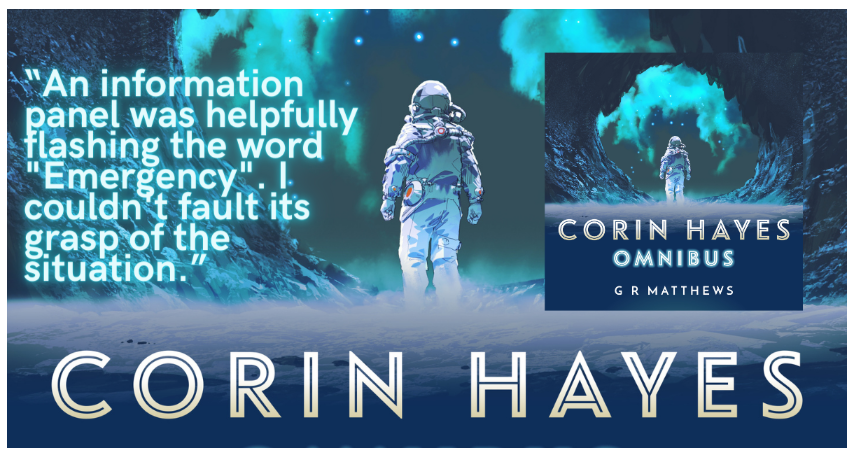 CORIN HAYES:

At the bottom of the ocean, the last of humanity survives in the corporation owned cities. Everything has a price; water, air, food, a place to sleep, and they have no place for those who can't pay their way.

Corin Hayes, a former Special Forces naval pilot of one of the most advanced diving suits ever developed has nothing left. At the bottom of a beer glass finds peace for a few hours, trying to forget everything he has lost; his daughter, his wife, his friends, and his reputation.

Approached in his favourite bar, a beautiful woman presents him with an offer he'd be an absolute fool to turn down.

The job, the pay, and being able to use those hard earned skills, might be his last chance to redeem something from his life and salvage his self-respect. However, in the world beneath the waves there is no such thing as an easy life and Hayes is about to discover that some jobs can be real killers.


Press release:

Looking for a thrilling science-fiction adventure that will keep you on the edge of your seat? Look no further than the Corin Hayes Omnibus by G R Matthews!

This omnibus edition brings together three books in the Corin Hayes series, including "Silent City," "Nothing is Ever Simple," and "Three Times the Trouble," and the bonus short story "The Passenger." Follow the adventures of Corin Hayes, a gritty and determined salvage operator who finds himself caught up in a dangerous game of cat and mouse with ruthless corporations in the deep ocean.

With fast-paced action, intriguing characters, and a vividly imagined world, the Corin Hayes Omnibus is a must-read for fans of science fiction and adventure. Whether you're a longtime fan of G R Matthews or discovering his work for the first time, this omnibus edition is the perfect way to experience the Corin Hayes saga.

So what are you waiting for? Grab your copy of the Corin Hayes Omnibus today and embark on a thrilling journey into the unknown!

Available on Kindle and Audible now.
Review quotes:
Corin Hayes:
"(A) book that isn't short on action or imagination and the setting is an interesting change of pace, so check it out!" -- Mark Lawrence, author of Prince of Thorns, Prince of Fools -- Mark Lawrence
"Truly stellar world-building, which combines all the griminess of cyberpunk with the majesty and terror of the sea." -- Paper Plane Reviews ― Paper Plane Reviews
"Entertaining and exciting: Silent City is the start of a series I'll certainly be following with interest." -- Laura M Hughes, author of Danse Macabre -- Laura M. Hughes
"Damn good fun, intriguing as hell, different and exciting, I devoured this book." -- Dyrk Ashton, author of Paternus -- Dyrk Ashton
"It had plenty of twists and turns, and I was on the edge of my submarine pilot seat once or twice. The ending left lots of room for more adventure but wrapped up this particular part of the tale. It was very well done. I like Corin's sense of humour too, so that was a plus." -- Super Star Drifter ― Super Star Drifter
"Corin, as a character, has been put through the wringer quite a bit and you feel for him or I certainly did. He's awesome!" -- Rapture in Books ― Rapture in Books
"Corin Hayes' adventure in Silent City is an altogether more visceral first-person adventure set in a far future where humanity has fled beneath the waves to live in undersea cities. The story is packed with action from the first page which has our hero preparing for a beating to the last where our hero is... (spoilers, as Riversong would say)." -- Fantasy Hive