Seven Deaths of an Empire - GR Matthews
Published on 15/05/2023 06:17:57 by Nik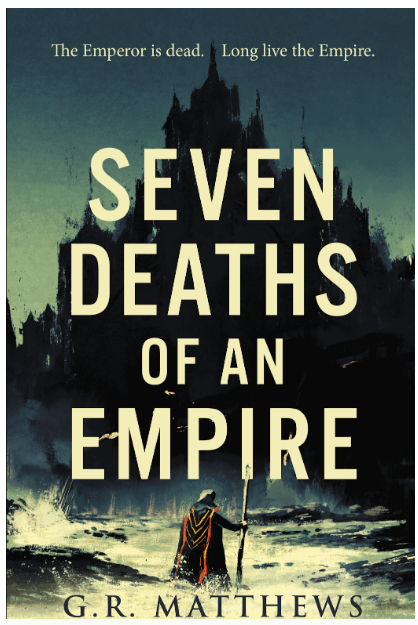 SEVEN DEATHS OF AN EMPIRE
The Emperor is dead. Long live the Empire.

General Bordan has a lifetime of duty and sacrifice behind him in the service of the Empire. But with rebellion brewing in the countryside, and assassins, thieves and politicians vying for power in the city, it is all Bordan can do to protect the heir to the throne. Apprentice Magician Kyron is assigned to the late Emperor's honour guard escorting his body on the long road back to the capital. Mistrusted and feared by his own people, even a magician's power may fail when enemies emerge from the forests, for whoever is in control of the Emperor's body, controls the succession. 

Seven lives and seven deaths to seal the fate of the Empire.

Seven Deaths of an Empire:
"The plot's surprising twists and turns will wow fantasy fans." -- Publishers Weekly ― Publishers Weekly
"Matthews has written an addictive page-turner full of magic and political intrigue." -- Adrian Selby, author of Brother Red
"Matthews delivers visceral descriptions of battle, the cut and thrust of gladius and pila, the shouldering of shields, the smell of blood and fear – and weaving through this, the delicate nets of magical constructs that can still snap, inflame or explode." -- The Fantasy Hive ― The Fantasy Hive
"This is fantasy at its finest." -- Grimdark Magazine ― Grimdark Magazine
"Refreshingly original - 4/5*" -- SFX Magazine ― SFX
"Both bloody, and bloody well written." -- Fantasy-Faction ― Fantasy-Faction
"Full of tension, intrigue, and action" -- Fantasy Book Nerd ― Fantasy Book Nerd
"A book which gathers speed and past the half-way mark begins to thunder towards an exciting conclusion." -- Mark Lawrence, author of Prince of Thorns
"Matthews delivers on the bigger picture stakes" -- British Fantasy Society ― British Fantasy Society
"It's exciting at every turn with a wonderfully spun plot that keeps you guessing the entire time." -- FanFi Addict ― Fanfiaddict
"A cracking read that will burn the candle in the night." -- Aurealis ― Aurealis
"Older teens and adults will enjoy the novel's political intrigue and struggle to survive, which are reminiscent of George R. R. Martin's Game of Thrones or a slightly less fantastical version of Jim Butcher's Codex Alera series." -- Library Journal ― The Library Journal
"A magnificent, thoughtful, highly readable account, full of political intrigue and dripping with potent, dark atmosphere. This is a must read for fantasy fans who enjoy political machinations." -- Bookworm Blues ― Bookworm Blues
"It has all the elements you expect from fantasy: magic, battles, power-struggles and impossible odds keeping you gripped." -- A Rambling Reviewer ― A Rambling Reviewer
"It's been a long time since a book made me swear out loud in horror... This is a story about politics, faith, betrayal and the loss of innocence, and I for one will be eagerly looking forward to a sequel." -- Set the Tape ― This text refers to the paperback edition.