Guest of Honour - G R Matthews
Everything you need to know
After studying for a Diploma in Creative Writing, G R Matthews taught the subject at A Level and holds a BSc (Hons) in Geography. Currently working in education with a focus on Child Protection and Safeguarding, he finds time to write in the evenings between battles to get his children to go to bed and the desire to binge watch Eureka on Netflix. He has also studied (been hit a lot) the martial arts of Judo, Kung fu, Wing Chun, and Kickboxing - and is not particularly skilled in any of them (hence the being hit a lot).
A D&D enthusiast, G R Matthews prefers the rogue (stabby stabby... who me?) as it suits his imagination and allows him to hide from all the things that go (accidently) wrong during a dungeon crawl... (and no one can prove I set fire to that town... it was only a little fire, honest!). As a self-taught guitarist the best that can be said is that at least he doesn't sing along to the songs (all the time) and the few thousand (poor) people who've heard him play (and sing) are mostly fine (some, to be fair, are still in recovery, but we wish them well).
At night, he sits and dreams that Spielberg, Lucas, Keanu Reeves, someone, anyone, reads his books and thinks they'd make a great movie series (they would, that much is definitely true). With two children (where did they come from?), a wife (long suffering, caring, strong), G R Matthews is known for his self-deprecating sense of humour (true), his chiseled jawline (false), and his long career as a heart-throb film star (utterly false).
G R Matthews is represented by Jamie Cowen of The Ampersand Agency (https://theampersandagency.co.uk/)
Further Reading
Website https://www.grmatthews.com
Twitter https://twitter.com/G_R_Matthews
Facebook https://www.facebook.com/gr.matthews.9/
Instagram https://www.instagram.com/G_R_Matthews/
Amazon Universal link Corin Hayes https://mybook.to/HayesOmnibus
Amazon Universal link Seven Deaths https://viewbook.at/SevenDeathsofanEmpire
Amazon Universal link Forbidden List https://getbook.at/ForbiddenList
Soundcloud Corin Hayes Chapter https://tinyurl.com/Corinhayes
YouTube Trailer for Seven Deaths https://youtu.be/Q9KXJAtzHa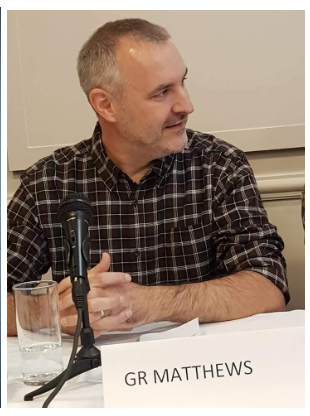 CORIN HAYES:
At the bottom of the ocean, the last of humanity survives in the corporation owned cities. Everything has a price; water, air, food, a place to sleep, and they have no place for those who can't pay their way.
Corin Hayes, a former Special Forces naval pilot of one of the most advanced diving suits ever developed has nothing left. At the bottom of a beer glass finds peace for a few hours, trying to forget everything he has lost; his daughter, his wife, his friends, and his reputation.
Approached in his favourite bar, a beautiful woman presents him with an offer he'd be an absolute fool to turn down.
The job, the pay, and being able to use those hard earned skills, might be his last chance to redeem something from his life and salvage his self-respect. However, in the world beneath the waves there is no such thing as an easy life and Hayes is about to discover that some jobs can be real killers.

Press release:

Looking for a thrilling science-fiction adventure that will keep you on the edge of your seat? Look no further than the Corin Hayes Omnibus by G R Matthews!
This omnibus edition brings together three books in the Corin Hayes series, including "Silent City," "Nothing is Ever Simple," and "Three Times the Trouble," and the bonus short story "The Passenger." Follow the adventures of Corin Hayes, a gritty and determined salvage operator who finds himself caught up in a dangerous game of cat and mouse with ruthless corporations in the deep ocean.
With fast-paced action, intriguing characters, and a vividly imagined world, the Corin Hayes Omnibus is a must-read for fans of science fiction and adventure. Whether you're a longtime fan of G R Matthews or discovering his work for the first time, this omnibus edition is the perfect way to experience the Corin Hayes saga.
So what are you waiting for? Grab your copy of the Corin Hayes Omnibus today and embark on a thrilling journey into the unknown!
Available on Kindle and Audible now.
Review quotes:
Corin Hayes:
"(A) book that isn't short on action or imagination and the setting is an interesting change of pace, so check it out!" -- Mark Lawrence, author of Prince of Thorns, Prince of Fools -- Mark Lawrence
"Truly stellar world-building, which combines all the griminess of cyberpunk with the majesty and terror of the sea." -- Paper Plane Reviews ― Paper Plane Reviews
"Entertaining and exciting: Silent City is the start of a series I'll certainly be following with interest." -- Laura M Hughes, author of Danse Macabre -- Laura M. Hughes
"Damn good fun, intriguing as hell, different and exciting, I devoured this book." -- Dyrk Ashton, author of Paternus -- Dyrk Ashton
"It had plenty of twists and turns, and I was on the edge of my submarine pilot seat once or twice. The ending left lots of room for more adventure but wrapped up this particular part of the tale. It was very well done. I like Corin's sense of humour too, so that was a plus." -- Super Star Drifter ― Super Star Drifter
"Corin, as a character, has been put through the wringer quite a bit and you feel for him or I certainly did. He's awesome!" -- Rapture in Books ― Rapture in Books
"Corin Hayes' adventure in Silent City is an altogether more visceral first-person adventure set in a far future where humanity has fled beneath the waves to live in undersea cities. The story is packed with action from the first page which has our hero preparing for a beating to the last where our hero is... (spoilers, as Riversong would say)." -- Fantasy Hive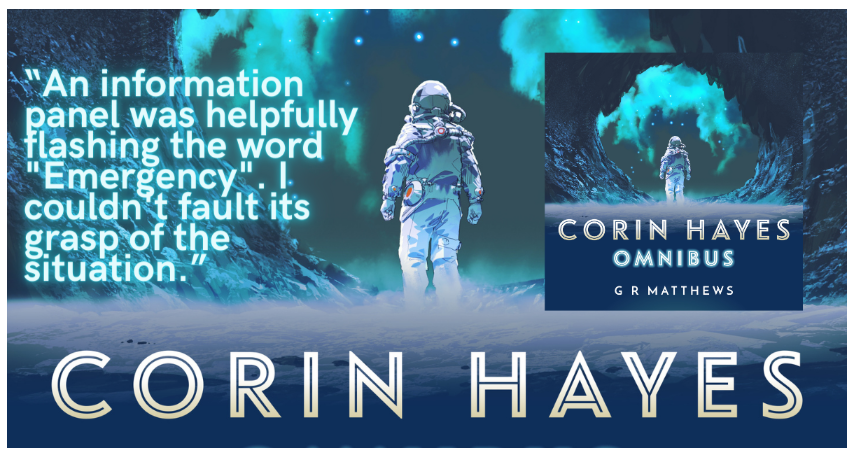 SEVEN DEATHS OF AN EMPIRE
The Emperor is dead. Long live the Empire.
General Bordan has a lifetime of duty and sacrifice behind him in the service of the Empire. But with rebellion brewing in the countryside, and assassins, thieves and politicians vying for power in the city, it is all Bordan can do to protect the heir to the throne. Apprentice Magician Kyron is assigned to the late Emperor's honour guard escorting his body on the long road back to the capital. Mistrusted and feared by his own people, even a magician's power may fail when enemies emerge from the forests, for whoever is in control of the Emperor's body, controls the succession. 
Seven lives and seven deaths to seal the fate of the Empire.
Seven Deaths of an Empire:
"The plot's surprising twists and turns will wow fantasy fans." -- Publishers Weekly ― Publishers Weekly
"Matthews has written an addictive page-turner full of magic and political intrigue." -- Adrian Selby, author of Brother Red
"Matthews delivers visceral descriptions of battle, the cut and thrust of gladius and pila, the shouldering of shields, the smell of blood and fear – and weaving through this, the delicate nets of magical constructs that can still snap, inflame or explode." -- The Fantasy Hive ― The Fantasy Hive
"This is fantasy at its finest." -- Grimdark Magazine ― Grimdark Magazine
"Refreshingly original - 4/5*" -- SFX Magazine ― SFX
"Both bloody, and bloody well written." -- Fantasy-Faction ― Fantasy-Faction
""Full of tension, intrigue, and action" -- Fantasy Book Nerd ― Fantasy Book Nerd
"A book which gathers speed and past the half-way mark begins to thunder towards an exciting conclusion." -- Mark Lawrence, author of Prince of Thorns
"Matthews delivers on the bigger picture stakes" -- British Fantasy Society ― British Fantasy Society
"It's exciting at every turn with a wonderfully spun plot that keeps you guessing the entire time." -- FanFi Addict ― Fanfiaddict
""A cracking read that will burn the candle in the night." -- Aurealis ― Aurealis
"Older teens and adults will enjoy the novel's political intrigue and struggle to survive, which are reminiscent of George R. R. Martin's Game of Thrones or a slightly less fantastical version of Jim Butcher's Codex Alera series." -- Library Journal ― The Library Journal
"A magnificent, thoughtful, highly readable account, full of political intrigue and dripping with potent, dark atmosphere. This is a must read for fantasy fans who enjoy political machinations." -- Bookworm Blues ― Bookworm Blues
"It has all the elements you expect from fantasy: magic, battles, power-struggles and impossible odds keeping you gripped." -- A Rambling Reviewer ― A Rambling Reviewer
<p"It's been a long time since a book made me swear out loud in horror... This is a story about politics, faith, betrayal and the loss of innocence, and I for one will be eagerly looking forward to a sequel." -- Set the Tape ― This text refers to the
paperback
edition.